How to Find Bounty Hunting Jobs - Home Marketing Course

How Much to Charge for Bounty Hunting - Use of Force - Investigations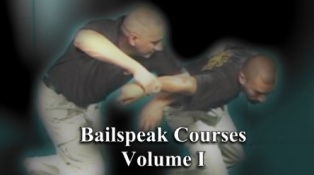 (See Fugitive Recovery Agent Book Table of Contents Below)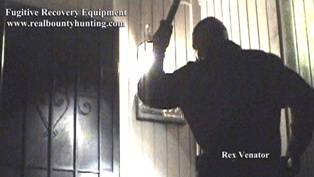 How to Find and Win Bounty Hunting Jobs
This course is offered as a Private Live Seminar at a course fee of $180.00 per person, but now you can by-pass travel, lodging, and taking time off with this unprecedented offer.
How to find bounty hunting jobs is, for over twenty (20) years now, one of the most oft asked questions by people who speak to Bailspeak's Live Seminar Instructor, Rex Venator.
Now, you can learn what Rex has taught his Seminar and Street Trained Bounty Hunting Alumni who have taken the sales and marketing lessons and become successful bounty hunters!
Thousands have been street and/or seminar trained by Bailspeak's Rex Venator, and now, for the first time, comes the next evolution in Bailspeak's absolute cutting-edge bail bonds education and bounty hunter training.
The Bailspeak "Ladies" have been fielding approximately 800 calls a week, Rex personally returns approximately 80 calls a week, and they all know exactly what people, from all over the Country, want in online bail enforcement training classes—Bailspeak has listened!
Learn How Rex Venator's Live Classroom and Street Trained Bounty Hunting Students have used his Nationally Proven Sales and Marketing Techniques to Win Lucrative Bounty Hunting Jobs from bail agencies and major bail bond corporations with this course that covers the following:
Bailspeak Courses Volume I
HOW TO MARKET YOUR BOUNTY HUNTING BUSINESS

A Six Hour Live Course Valued Engineered into just over 60 Minutes!
Bounty Hunter Marketing Module A
Intro to Bounty Hunter Marketing

How to win bounty hunting contracts

Bailspeak – bail industry jargon

Helpful background and experience

Martial arts training

Bounty hunter mentorships

Other helpful training

Six reasons to study bail motions

The bounty hunting commission

Picking winning business names

Business license

Website design

Brochures
Bounty Hunter Justifiable Use of Force Webinar

"Arrest Control Restrain Bailspeak Virtual Training Course"
This is a Webinar based Course that comes in two Modules with a total course length of over 35 minutes.
Rex, a 35 year martial arts instructor, demonstrates his hybridized system—designed specifically for bail enforcement—that he himself has used countless times to defend himself on the lesser-known mean streets of California.
See how Rex has placed handcuffs on hundreds of bail jumpers, retained his weapon, and continues to work, Liability Free as a bounty hunter, since 1992.
Module A – 18 Minutes
Introduction

Course Overview

Defensive Hand Techniques

Footwork – Critical Foundational Instruction

Trapping the natural "Flinch"

Picking a Holster
Module B – 17 Minutes
Interview Stance

Edged Weapon Defense

Weapon Retention

Sucker Punch Defense

Handcuffing




Waist Chains and Shackles

Take Down to Prone Control

Take Down to Prone Control and handcuffing

Bonus Material




Final Exam
BAIL ENFORCEMENT TRAINING BOOK
"Modern Bounty Hunting: A Real-Life Guide for the Bail Fugitive Recovery Agent"

2005, Paladin Press ~ 8 ½ x 11 – 219 Pages
This Limited Edition Book is now out-of-print and going for nearly
$2,000.00 on Amazon New!!


For those seeking more information related to the bail fugitive recovery trade, see below.

Table of Contents

PART 1: IT'S THE LAW

Up-To Date Fugitive Recovery Laws
Your Legal Authority To Arrest
Legal Documents To Acquire And Carry
What is Your Legal Liability?
Firearms And The Law
Use-Of-Force Guidelines

PART 2: ARE YOU CUT OUT TO BE A BAIL FUGITIVE
RECOVERY PERSON?

What Training Do You Need?
How Do Your Relate To People?
Understanding The Adrenal Response

PART 3: TAKING CARE OF BUSINESS

Starting Your New Business
How To Get That First Contract
Dealing With Those Crafty Bail Agents
Choosing Partners Or Individual Contractors
The Pros And Cons Of Wanted Posters
Getting Paid For All Your hard Work

PART 4: TAKING CARE OF YOU

Preserving Your Anonymity
Taking Universal Precautions
Dealing With Bail Fugitives Under The Influence
How Does The "Three-Strikes" Law Effect You?
Just Say No

PART 5: TRACKING DOWN, ARRESTING, TRANSPORTING
AND BOOKING FUGITIVES

Where To Start
Working With Law Enforcement
Working Solo
Team Operations
Locating The right Bail Fugitive
Reconfirming The right To Arrest
Arresting And Controlling Bail Fugitives
Transporting Bail Fugitives
Booking Bail Fugitives

PART 6: APPENDIXES

State Laws On Bail Recovery
Sample Letters To Bail Agents
Sample Wanted Posters
Standard California Form 1301
Sample Independent Contractor Agreement
Complete And Full Waiver Of Liability
Sample Police On The Use Of Restraints
Bail Bond Face Sheet Sample
Court Clerk Stamp
Notice Of Forfeiture Sample A
Notice Of Forfeiture Sample B
Generic Authority To Arrest
Four Bench Warrants With Night Service Samples
Affidavit Of Undertaking Of Bail For Surrender To Defendant
Request By Indemnitor For Surrender Principal
Multiple Bonds On Same Person
Sample Agreement For Surety Bail
Indemnitor/Guarantor Checklist
Example Of Bail Application
Field Interview Card Sample
State-By-State Statutory Surrender Time On Forfeited Bonds
Bail Fugitive Recovery Payment Agreement
Law Enforcement Agency's Notification Of Attempts To Arrest
Contract Enforcement Services Activity Time Sheet
Sample Activity Log
in-House Incident Report
Supplementary Report
Bounty Hunter Marketing Module B
(Winning Example Advertisements Included as PDF "Attachments")
What to expect

Bounty Hunter Partner Code

Bail Education by Bailspeak

Business partners and money

Winning types of letters

Envelopes – Not to be underestimated

Mailing lists

Using the Old Ways

Job Interviewing

Etceteras!
** HOW TO CHARGE AND WHAT TO PAY FOR BOUNTY HUNTING? **

Eight Minute and Thirty Second Combo Slide Presentation and Webinar Based
This question arises in nearly every live Bailspeak 20 plus hour California Department of Insurance Approved Bail Agent Pre Licensing course, which are routinely held in Sacramento, Roseville, Salida, Modesto, Stockton, Lathrop, San Jose, Bakersfield, Los Angeles County, Riverside County, and San Diego County.
Meet Your Instructor

Bounty hunting commissions

Equitable Commission Summary
Copyright 1992 - 2015 Bailspeak, All Rights Reserved

Minimum System Requirements
CD ROM Drive or

USB Port

500 MB of Memory Space

32 Bit Windows XP SP3

64 Bit Windows Vista SP1

64 Bit Windows 7

Acrobat 8 for PDF Viewing

How to Become a Bounty Hunter and Bounty Hunting Business Owner

The above categorized online courses were originally and separately priced and very problematic due to the wide variety of end user's individual Internet speeds, hardware, operating systems, and collectively the tuition, including "Modern Bounty Hunting: A Real-Life Guide for the Fugitive Recovery Agent," was $124.93; however, for the first time and absolutely unprecedented with other Learning Management System online educators, Bailspeak is now offering all the above previously online course on a Master CD or Thumbnail Drive as follows:
CD only Online Purchase ~ $29.99 Plus Shipping

Thumbnail Drive Online Purchase ~ $42.99 Plus Shipping

Autographed Book and CD Online Purchase ~ $599.99
Autographed Book and Thumbnail Purchase ~ $650.00
* * *
This chance to secure actual MASTER CDs and Thumbnail Drives of these actual online courses is unprecedented to the extent that no other bail education school, bail pre licensing education provider, online college or online university would dare make MASTERs of its courses and distribute them to the general public—unscrambled!
Sure, anyone could take the courses and plagiarize the material, but Bailspeak is, bar none, the most plagiarized and copied bail education school in the Nation; therefore, those, suffering from an acutely damaged moral compass, are given to uncontrollable rascality, and who shamelessly five finger discount or appropriate valuable training material from Bailspeak, frankly speaking, the general public knows this, who you are, and doing so is a good study of causation for why such a dastardly thing is necessary to report in the spirit of Consumer Protection.
Please rest assured, Bailspeak's training material and classes are wholly original from concept, to research and development, pre-production, production, quality control and then made available to the Public.
BAILSPEAK's Prime Directive is to get the best possible bail bond and bounty hunter training out to bail agents and bail enforcement agents who operate as fugitive recovery agents practicing the bounty hunting arts notwithstanding those who are either unable or unwilling to research and develop original course content in favor offering...well, let us just conclude here and to all, Luck in Bail and Bounty Hunting.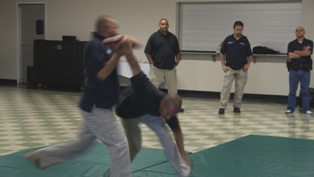 "I would like anyone reading this to know one thing. Rex knows this business! I've had the distinct pleasure of apprenticing with, and working side by side with Rex. I can definitely say from firsthand experience that when it comes to working all aspects of a bail recovery case Rex's knowledge is unparalleled, especially when it comes to the legal aspects of avoiding liability. When it comes to being tactical in the field, well let's just say that I wouldn't hesitate to clear a house with Rex as my partner.
With the knowledge I gained through working with Rex I was able to land a position as a full time bail investigator with a major bail agency here in California. If it hadn't been for my association with Rex I wouldn't have had the success I've had so far in the fugitive recovery business. In just four months I've successfully closed out over 50 cases and I've saved my company over a half million dollars in liability. So far, not one of my cases has gone into summary judgement, and I've kept myself free from liability as well. And that all comes from the basics that I learned about this business while working cases with Rex.
What does this mean to you? Well, if you are visiting Rex's website and reading this now, then you obviously have an interest in the fugitive recovery business, and if that's the case then all I can say is....buy Rex's products! They'll be a virtual goldmine for you!
Thanks Rex!"
Sincerely,
Sam James
* * *
"I have worked with many different, successful Bail Fugitive Recovery Agents in my career, and Mr. Venator has demonstrated real world Street Training while working real cases! Mr. Venator is adamant about agent safety both physically and legally, and I bear first hand witness that he practices what he preaches. I've learned more in 72-hours working real cases than I could ever learn from a lecture based seminar. The best part is that I was able to sample Mr. Venator's instruction methods and theories with his books and DVD training videos before committing to his new Street Training program. After studying with Mr. Venator, my bail enforcement knowledge has vastly widened, and I am now working my own cases with a new arsenal of street tools. I'm proud to call Mr. Venator an invaluable consultant and friend!"
Dave Stockton
Rex Recommended
Bail Bond Investigator
* * *
"I am an ex Law Enforcement Officer who has taken several hundred training courses in my career, but nothing compared to the training I received from Bailspeak. Rex...cover all aspects needed to be successful in the Bail industry.  Bailspeak will teach you both Bounty Hunting and Bail laws.
If you want to be successful in this industry, you must apply yourself and take the time to research laws, case law, bail laws, contract laws, motion drafting and court appearance. Bounty hunting isn't just about strapping a gun on your hip and hooking and booking. Sometimes skips hide and u won't be able to find them, so you will have to go from handcuffs to using a keyboard and technicalities to get the bail bond company off the hook.
I have seen bounty hunters who are one dimensional and not willing to learn all aspects of bail come and go in the short time in the industry. There are plenty of doors to be opened in this industry, but you have to turn the knob and not just wait for someone to open it for you cause it won't happen.
If you are going to spend the money to get into the bail industry, spend it with BailSpeak because you will learn all of the aspects I just mentioned and you will learn how to do things the lawful and liability free way where you will not learn that through some of the other classes."
~ Hawk, Bail Enforcement Forum
Now Available at any Bailspeak Bail Agent Pre Licensing Training Event!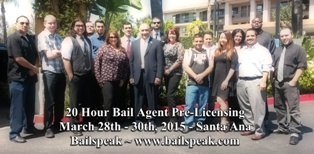 Online Bounty Hunting School!
$19.99?

Learn More Below.

Three Previously Online Bounty Hunting Classes now only $19.99 on CD!

BONUS BAIL EDUCATIONAL EXCLUSIVE!
"MODERN BOUNTY HUNTING: The Investigation"
(10 Previously Unpublished Chapters in Unedited and Raw Text)
91 Page PDF Book Included with Your
Bailspeak Courses Volume I
CD or Thumbnail
Delivered Online Courses
TABLE OF CONTENTS
Title Page                                                                                                      Page 1
Introduction – An Anecdotal Glimpse of the Trade                                    Page 2
Chapter 1– How Did I Find My Way?                                                        Page 15
Chapter 2– Physical Fitness                                                                         Page 20
Chapter 3– You're Set and Ready to Go; Now What?                                Page 29
Chapter 4– Marketing Your Services                                                           Page 36
Chapter 5– Winning the Contract                                                                 Page 54
Chapter 6– It Takes Money                                                                           Page 58
Chapter 7– In-House Versus Independent Contract Work                            Page 62
Chapter 8– Managing Large Case Loads                                                      Page 66
Chapter 9– Mission Specific Equipment                                                       Page 72
Chapter 10– Conclusion                                                                                Page 86
"Brother, It was well worth it (both time and money), I see it as a valuable investment in my future. The forms and marketing techniques are priceless and presented from who we now know firsthand is a master in the Bounty Hunting arts.
I have been to many sales seminars and they are usually conducted by some guy who has a degree in sales / marketing but has no knowledge of the products being sold or the customers you will be selling to, or even knowledge of the industry whatsoever.
Rex has a whole different approach in the marketing class; he teaches from his experience and has some great tips I hadn't thought of.
My personal favorite has to do with the way you fill out your envelopes, very logical and effective approach."
- Bailspeak Community Forum Member,

elr80ca – 2012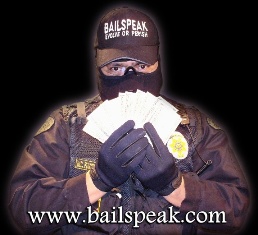 "As a veteran police officer for the City of Stockton, I have found that the techniques "Modern Bounty Hunting: Street Proven" contains to be extremely effective.
I have been an arrest & control tactics instructor for our department, and I have noticed that the techniques demonstrated by Rex are similar to our departmental training, which are designed to minimize liability when making arrests.
In my opinion learning and applying these techniques can be very beneficial in a variety of law enforcement/Bail Bondsmen arrests.
In today's environment it's critical to have a basic knowledge of the techniques Rex offers to safeguard yourself while apprehending bail bond fugitives."
~ Police Officer Ed Kohler
Stockton Police Department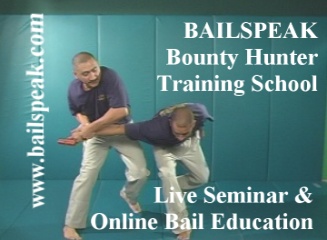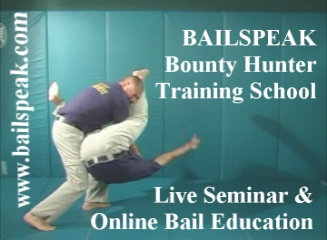 Thumbdrive or CD Home Study Webinar Styled Seminar & Companion Book
 

How to Find Bounty Hunting Work

How to Charge a Bondsman

How to get Paid for Bounty Hunting



 

How to Arrest a Bail Jumper

How to Apply the Use of Force

How to Handcuff Bail Jumpers



"The Romans did not wait for war to pick up a sword."