Bail Bond School Alumni Reviews ~ Testimonials

Real People Go on the Record about this Bail Education School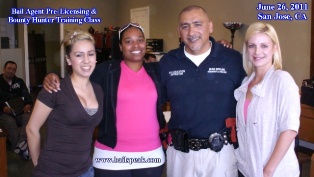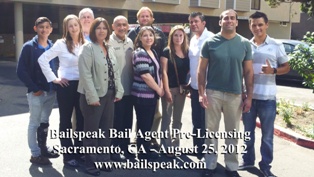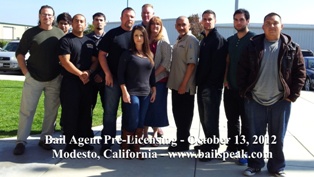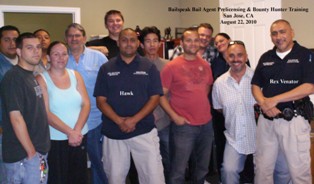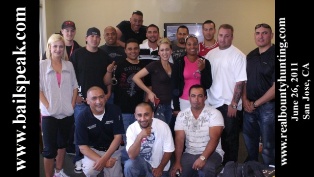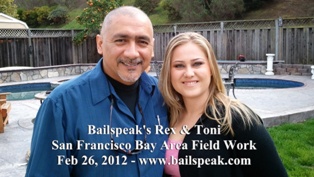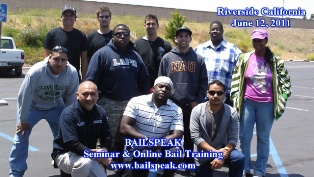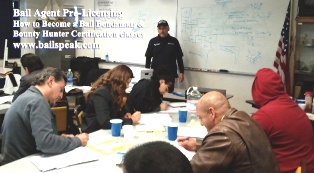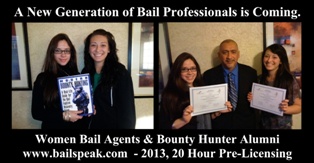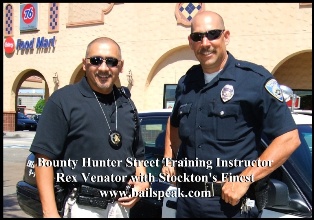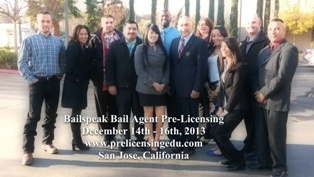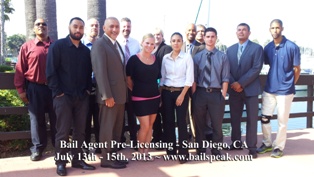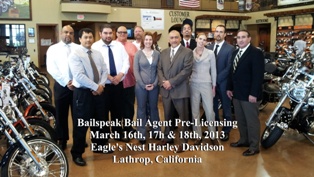 "Really enjoyed listening to examples given to each topic, made it understand easier.  Instructor's experience helped understand various topic learned.  Also handbook was easy to understand.  Very knowledgeable actually exceeded my expectation really enjoyed his enthusiasm."
"I think it was very educational.  I have learned so much from this class, than I have learned at work for the past three months.  This class was very helpful for me.  I appreciate the fact that Rex takes his time to  teach people on this subject.  Rex said he enjoys doing this so that makes me want to learn even more."
"The tech info was awesome."
"Class was very helpful.  A lot of info.  The real life stories that went along with the info.  Just wish the class was longer!"
"Very informative, liked examples.  I liked how he had an example storey for a lot of situations."
"This course has put me in the mindset I need to be in while out on the job.  I value all of the information I received and I thank Rex for taking time out to convey the information.  Knowledge!  I would love to work with Rex.  It would be phenomenal to pick his brain on a daily basis."
"I appreciated the atmosphere to how at any time if I raised a question the instructor will post the answer.  There is no actual blue print to a step by step, lawful approach on how to not go beyond a bail agent's authority. Preciate your time, energy and efforts."
"I gained knowledge from Rex's personal experience and knowledge of the legal aspects and orals of the industry."
"I didn't fall asleep!  Rex kept us engaged! I thought I was going to hate it but ended up learning a lot and enjoying myself at the same time."
"Keep it up!  It was different from other courses!  Very good course!"
"Pushed my thinking capacity."
"High level of Rex's experience and related stories."
"The convenience of the small class."
"Information on 1305(j) and the definition of what a motion is."
"The way the speaker compiled everything."
"Learning new things, to be able to understand lecture.  Very knowledgeable, great instructor, he motivated me to want to take more learning."
"Valuable info!  My brain is maxed out. Thank you for all your help!  I love this industry."
"Fast pace, never boring, learned a lot of useful info. Very knowledgeable instructor.  Nice to hear stories of "real life" experience."
"The speaker kept me into the class."
"Great overall instruction, class and time. Wasn't so text book, kept you involved and yet very informational at the same time. It was a pleasure to meet such an accomplished individual within the bail industry."
"As a veteran police officer for the City of Stockton, I have found that the techniques "Modern Bounty Hunting: Street Proven" contains to be extremely effective.

I have been an arrest & control tactics instructor for our department, and I have noticed that the techniques demonstrated by Rex are similar to our departmental training, which are designed to minimize liability when making arrests.

In my opinion learning and applying these techniques can be very beneficial in a variety of law enforcement/Bail Bondsmen arrests.

In today's environment it's critical to have a basic knowledge of the techniques Rex offers to safeguard yourself while apprehending bail bond fugitives."
~ Officer Ed Kohler
Stockton Police Department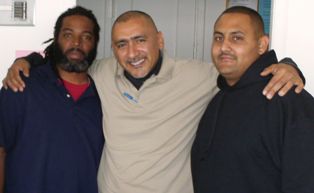 "I am an ex Law Enforcement Officer who has taken several hundred training courses in my career, but nothing compared to the training I received from BailSpeak. Rex...cover all aspects needed to be be successful in the Bail industry. BailSpeak will teach you both Bounty Hunting and Bail laws.

If you want to be successful in this industry, you must apply yourself and take the time to research laws, case law, bail laws, contract laws, motion drafting and court appearance. Bounty hunting isn't just about strapping a gun on your hip and hooking and booking. Sometimes skips hide and u won't be able to find them, so you will have to go from handcuffs to using a keyboard and technicalities to get the bail bond company off the hook.

I have seen bounty hunters who are one dimensional and not willing to learn all aspects of bail come and go in the short time in the industry. There are plenty of doors to be opened in this industry, but you have to turn the knob and not just wait for someone to open it for you cause it won't happen.

If you are going to spend the money to get into the bail industry, spend it with BailSpeak because you will learn all of the aspects I just mentioned and you will learn how to do things the lawful and liability free way where you will not learn that through some of the other classes."
~ Hawk, Bail Enforcement Forum
"Yesterday, I filed my first 1305(g) motion in Santa Clara County that I actually drafted myself. This was not an easy task for being the first one, but it was great experience. Hopefully it will be enough to get the company off their liability. I'm glad I took Bailspeak's motion class because it really helped me know what to do!!!!!

From pre-licensing to modern bounty hunting to street training to actively soliciting to getting cases to bounty hunting liability free to appearing in court on surrenders and motions to now drafting motions, it has been hard, but I owe all of my accomplishments to Bail Speak, Rex, Lion and all of the great advice and guidance from people on this forum!!!! Thank you for everyone's support and assistance."
~ Bailspeak Alumnus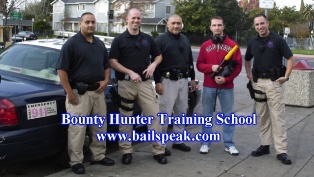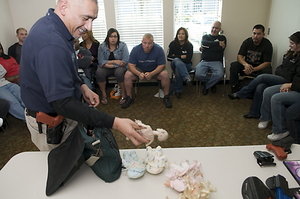 "I would like anyone reading this to know one thing. Rex knows this business! I've had the distinct pleasure of apprenticing with, and working side by side with Rex. I can definitely say from first hand experience that when it comes to working all aspects of a bail recovery case Rex's knowledge is unparalleled, especially when it comes to the legal aspects of avoiding liability. When it comes to being tactical in the field, well let's just say that I wouldn't hesitate to clear a house with Rex as my partner.

With the knowledge I gained through working with Rex I was able to land a position as a full time bail investigator with a major bail agency here in California. If it hadn't been for my association with Rex I wouldn't have had the success I've had so far in the fugitive recovery business. In just four months I've successfully closed out over 50 cases and I've saved my company over a half million dollars in liability. So far, not one of my cases has gone into summary judgement, and I've kept myself free from liability as well. And that all comes from the basics that I learned about this business while working cases with Rex.

What does this mean to you? Well, if you are visiting Rex's website and reading this now, then you obviously have an interest in the fugitive recovery business, and if that's the case then all I can say is....buy Rex's products! They'll be a virtual goldmine for you!"

Thanks Rex!"
Sincerely,
Sam James
"I have not lost a single motion since I took [Bailspeak's Bail Motion class], and I am also winning motions to extend time, because of [Rex's class], when others there [in Court] are not getting [granted bail motions] theirs. I tell everyone if they want to win motions then take Rex's [California Department of Insurance Approved Bail CE for six hours] class."
-Veteran Bail Bond Company Owner & Private CE Client, July 19, 2013
"Today, because of Bailspeak, conversations with Rex, hard work and Modern Bounty Hunter, I have obtained several lucrative contracts, drafted motions, putting a recovery team together and just been given the opportunity to be sponsored to obtain my Bail Agent license. This has all occurred and came together in a matter of 3 months time. Thank you greatly Rex and all Bailspeak instructors."
~ Bailspeak Alumnus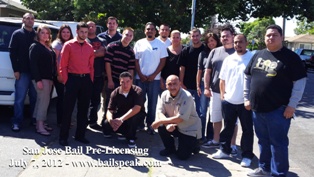 "I just wanted to thank you again for the class. Bailspeak is a professional operation that i am happy to have contracted with for my training needs. I have years of experience in civilian, military and federal law enforcement and previously contracted as a bail enforcement agent with approximately 50 apprehensions (prior to 1299).
As a former defensive tactics instructor in New York City, your principles are sound and instruction methods outstanding. I look forward to attending many more training classes with you to re-hone my existing skills while developing new ones!"
~ Bailspeak Alumnus - July 13, 2009 
"Explained with scenarios to comprehend better given information. I wouldn't normally be able to get in such a short period of time."
"Enjoyed the class it was very insightful. Look forward to further training."
"I will refer friends and family to Bailspeak."
"Very good instructor I will attend more of his classes."
"Everything was great, good learning experience."
"I am extremely glad I took this course and I am confident in the information I have obtained."
"I appreciate everything taught that helps me know the role of a bail bond agent. Keep up the good work."
"Rex is an amazing instructor. A wealth of knowledge that plays out well in the class. Great at helping students learn through scenarios."

"Rex is knowledgeable and passionate about this class. Very conducive for learning."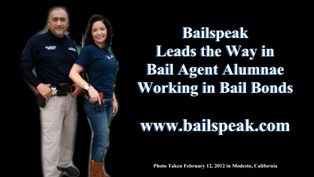 "Rex is a great instructor. He is very funny. He knows how to explain every situation like you are actually there. Makes me wish I were and want to be in his shoes."
"Thank you for the tools you have given to me to help me pass my Ca state exam and to better myself in my career."
"This has been the best class that I have taken in years."
"It was an honor to meet and learn from Rex, he is very knowledgeable."
"What I liked about the course was that it got me familiar with the laws of the justice system."
"Keep up the good work Rex! I am very excited about networking and learning."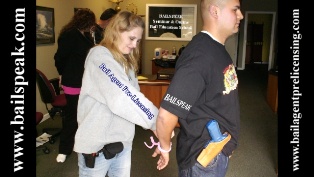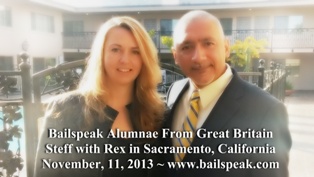 "Small, interactive class with a friendly instructor."
"Very hands on class and the instructor was very involved with the class instead of just lecturing."
"Very informative."
"Fluid presentation of materials. Very knowledgeable instructor with a witty delivery so you are always listening and learning!"
"Very informative and Rex taught me new things!"
"Open and comfortable.

The course is great and I would recommend to anyone!"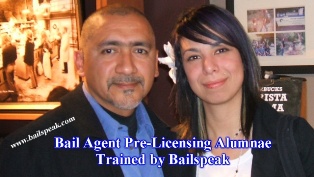 "I appreciated the frequent warning for safety and experienced advice"
"Broad spectrum of information analyzed and explained very thoroughly."
"Teacher (Rex) explained everything with details where I understood everything!"
"Instructor (Rex) was extremely versed on all aspect of the business – excellent job!"
"I liked that it wasn't a Power Point or boring video! I learned a lot!"
"It was all about the fact and not boring!"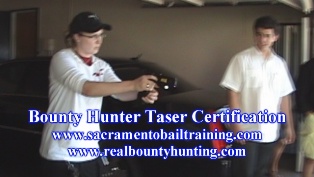 Female bail students consistently share, on Bailspeak Seminar Evaluation forms that its bail education classes are "fun" and "safe," and Bailspeak classes are a learning environment that is totally conducive towards helping women get started in the bail bonds and or bounty hunting business.
Bailspeak's bail training programs go back to the early 90's when its founder and Primary Instructor, Rex, pioneered bounty hunter street training in general and specifically with an emphasis in helping women decide if bounty hunting is right for them.
Scroll Down to read comments that were put in writing by Bailspeak's Bail Education Alumni, its Street Trained Bounty Hunters, and from those who have read bail and bounty hunting related books by Rex.
"Very informative and lots of material was covered in a short amount of time."
"A lot of detail about the subjects was given and all questions were answered. Class was also fun and easy to listen to."
"I am a Pre-Licensing Alumnus and, quite frankly, came for CE as an alternative to a dry insurance code rehash. Who knew I'd learn something!"
"Interactive and thought provoking!"
"Absolutely top notch! The level of experience and emphasis on integrity are fantastic!"
"Great job and very pleased I was given the opportunity to gain knowledge from a hands on experienced professional."
"Lunch was included, hand outs for examples, every question answered!"
"Very knowledgeable."
"Outstanding! Excellent presentation. Anecdotal method makes new information much more relevant."
"There wasn't a question about a law or a code that Rex didn't know or couldn't reply to. Very Impressive."
Copyright 2003- 2016 Bailspeak, All Rights Reserved

"The extensive and detailed presentation style."
"How information was broken down in a way that if someone that didn't know anything about bail can easily retain the information that was presented."
"The speaker's ability to convert his knowledge into terms and incidents that I am able to understand."
"Very detailed on explanations and easy to understand."
"Coherent instructions coming from an instructor who is obviously a top professional in the industry."
"Very informative. Rex is extremely motivating."
"Very easy to understand and Rex made it a joyful experience."
"Rex gave me better insight of how a bail office should run. By the book! Easy to look at everything according to the law."
"Wealth of information. Anecdotes mixed with raw materials."
"To the point. Good use of case study."
Bailspeak Alumnus and Alumnae Offer Testimony, on the Record, via Post Seminar Evaluation Forms, Email, and even Letters sent via the United States Postal Service and Facsimile!
As the current state of the United States Economy endures, incidences of Internet scams, fraud, theft, identity theft and other scandalous crimes perpetrated against innocent folks is, arguably, on the rise; therefore, Bailspeak, since Day 1, has instituted unprecedented transparency to the extent that class photos started as a way for Alumni to quantify where their bail education came from; however, class photos have, since those early days, become a tradition inasmuch that people can prove that they did in fact take their bail education class from a California Department of Insurance bail education provider for a great many reasons explained in class.
Below are just some (nearly 4,000 people have taken Bailspeak's classes and Bounty Hunter Street Training Programs or a full 1/3rd of actively writing bail agents in California) photos and direct quotes from Bailspeak Alumni in support of one very important aspect of living in today's age of no privacy—Consumer Protection!
Call Bailspeak Anytime ~ 1-877-726-9092 ~ for Enrollment Information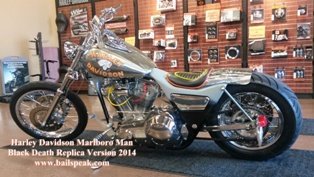 Harley Davidson and the Marlboro Man Bike
Bailspeak is now working with Mentor to Build a Replica of
Mickey Rourke's 98 Inch Death Machine Stroker or Black Death Bike
Click on the Below Image to See a Project Video Update.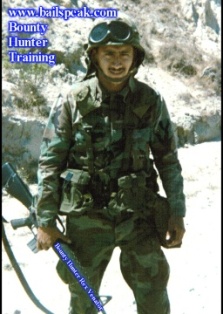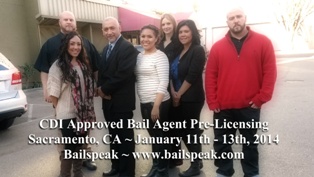 "The level of comfort in being able to voice my questions and opinions.  I liked everything!  Very informative.  The instructor's life experiences and examples helped my understanding of what was being taught."
"The presentation and how it wasn't just straight out the book.  (Real Life!)"
"He's a great teacher!  How he can prove everything with a true story."
"Very informative, liked the class size.  Made it more personable.  Great job!  Enjoyed the course!"
"Great material and info!  Great job!"
THE ART OF BAIL AND YOU
"I genuinely care about where people go from class."
Opinion Editorial by Rex Venator
The complexities of my various small business operations are such that personally standing before so many people who are seeking occupational fine tuning or protracted career course corrections to produce more cash for their families, or are searching for something, or who are new hires all creates an interesting set of dynamics: instructing bail agent pre licensing and continuing bail education courses for me is a freely made choice; my other ventures generate enough cash flow and keep me very busy; I genuinely care about where people go from class; my phone and email are always open to Bailspeak Alumni for general discussions; if Bailspeak Alumni succeed then I succeed—that's it; that's why I have personally instructed over 2,000 people in the Art of Bail.
Bailspeak absolutely does not in any way imply, suggest, or otherwise lead the reasonable person to believe that it has any type of so-called "Job Placement" apparatus for would-be students because even alluding to such a thing, considering the number of Bailspeak Alumni, would be insulting to any person who approaches the topic logically; however, this isn't to overlook the fact that I happen to know loads of bail and bounty hunting people who were matched with many, many prospective candidates from the ranks of Bailspeak Alumni and are now enjoying some form of employment or work or independent contracting.
This brings me to what inspired this opinion editorial.
In my personal belief structure, it is my obligation to do what I can when I can to help people be successful within the realm of probabilities—not everyone can be matched with people looking for help in the bail trades, but I will try if success is at all possible.
Here we arrive at what I personally consider very credible and good reason(s) to believe that not everyone with a history of instructing bail education classes has any designs, whatsoever, to help bail education students succeed and may even misdirect, mislead, and even view talented students as direct "competition," which is a paradoxical way of thinking; why teach people to do what one does and then subvert their efforts to do what one does—it makes no sense to the morally principled but makes perfect sense to the morally challenged.
The premise of this opinion editorial is that I personally teach in hopes of helping people surpass what I myself have done, and I personally know of some very talented people who are now blowing my own income averages off the charts as top tier bounty hunters and certainly bail agency owners with one or two (maybe 3 or 4) even writing upwards of $5,000,000.00 in penal liability each year after proper education and ongoing training support by this instructor!
I could go on and on about my credentials, but I would much rather go on and on about the successes of the people I have met, instructed, worked with, and then watched them fly; it is a glorious and beautiful thing when those money making wings spread out and ride the winds :-)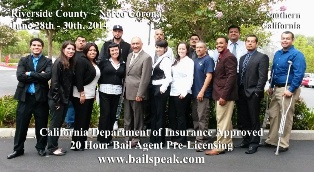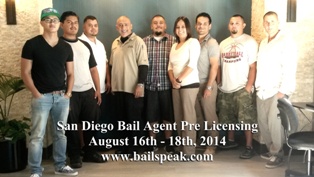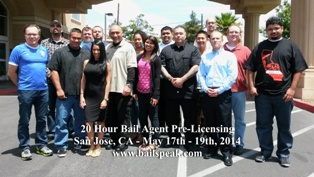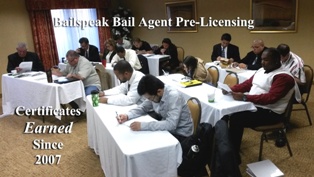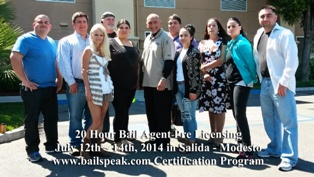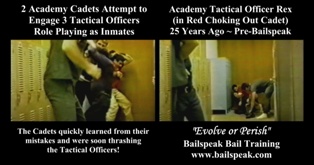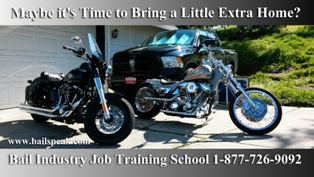 "Now I know why people call Rex the 'Bail Whisperer' after he helped me underwrite and get a $400,000.00 bail bond approved by my surety that seemed hopeless at first.  Full premium, collateral, and it exonerated!  Tell Rex he can't do something and watch it get done.  Thank you Bailspeak, and thank you for having licensed bail agents on staff who can help people new to bail negotiate bail bonds."
~ Telephone caller rendering an opinion on Bailspeak's Post Alumni Assistance Program
"Section codes, bounty hunting guidelines motions of the court procedures.  Very helpful and knowledgeable .  Seems like a very proven successful person in this career field."
"Rex is an amazing teacher.  Guy knows his stuff!  Every side note and story Rex had, had me at the edge of my seat.  VERY EDUCATIONAL!  Rex is a Bad Ass!"
"Very detailed and easy to follow.Very informative and made class entertaining!"
"Very great seminar.  Great speaker, very informative, and creative teaching!  It's well appreciated!"
"The real life examples on the motions and laws."
"I wish it were longer!  The examples are great and the material was very interesting.  The pace also made the course fun."
"Information and experience is gold from instructor.  Instructor taught and followed up with personal experiences and examples.  Instructor well spoken, great vocabulary, has a wealth of knowledge and experience that I wish we had more time to learn.  And, he was funny!"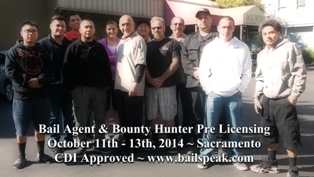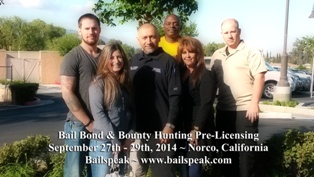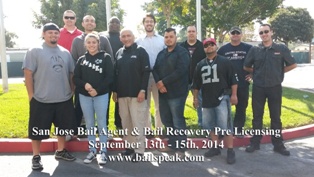 "[I liked] how it was presented.  Easy to follow along, great examples and stories that related to the subject."
"[I liked] the real life experiences that help me relate to the subject matter and assisted in retention.  After taking"this I now want more training.  It made me realize the importance of both the bail license and 1299."
"Loads of 2014 info! Will recommend to friends and family members."
"Wish it was a little longer.  The stories helped with the class."
"[I liked] everything!  Preparing me for success and most importantly  to be lawful and know laws – enjoyed case points!  Rex was an amazing instructor, very helpful knowledgeable – the course was so fun, interesting and amazing!"
"I'm new to bail and everything involved with bail.  Very informative class.  A lot of information packed into 20 hours."
"Rex, you had great stories and examples to back up your points.  Covered a lot and was not boring!  Exciting class! Keep up the excellent work and good energy!"
"Rex was enthusiastic and well informed about every topic."
"I really enjoyed this class.  Rex is an awesome instructor.  Mostly everything was a good lesson I really like the instructor was very straight forward no matter what.  The course was full of a lot of information.  Instructor was great and was very knowledgeable."
"Having a successful instructor who has and still is in the process of what we are going to have to go through.  Motivated me to not just become a bounty hunter but pursue into becoming a bail agent because it will only help me out even more and become even more successful."
"The connection between the bail agent and bounty hunter.  Very thorough communication of the bail bond business and bounty hunter responsibilities and liabilities."
"Instructor was very knowledgeable and well educated in subject matter.  The real life scenarios."
"I like the attention to detail and the anecdotal structure of the class.  It was more than I could have expected.  Thank you!"
"Instructor was knowledgeable about all subjects."
"I came in not knowing what I was getting into.  Thank you for educating me and I love what I heard.  It helps me protect myself from errors and omissions.  I know more of my rights than before.  Great atmosphere, very friendly and understanding instructor.  GREAT!  I asked lots of questions and Rex was able to answer all, nothing more to add..."
"The presentation was great.  Simply the best!"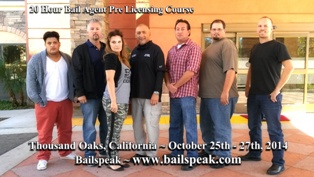 "I liked the education – and – it was fun!"
"Examples of how situations and actual laws come together – interesting subject matter made time fly – kept class engaged."
"I liked the real world scenarios.  Bailspeak's staff and instructor are very nice people."
"Very impressive.  I liked the amount of topics and how it was presented.  There was nothing I didn't like.  Rex is extremely knowledgeable and presented all the material extremely well."
"Excellent handouts and slides help greatly with the retention of the information, which otherwise could have been very confusing.  In depth, real world examples and case sites.  Excellent course and knowledgeable instructor.Thank you Rex and Bailspeak."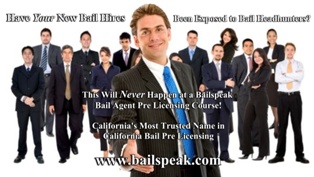 "Instructor is very knowledgeable.  Very interactive.  Great course!"
"I learned a lot about law, very informative.  I think it was great and so was the instructor!"
" Depth of information not typical of most courses.  Good, lively atmosphere, engaged learning."
"Everything was very helpful and Rex kept it interesting."
"Good instructor.  Instructor experience."
"Very professional and knowledgeable.  I loved how it was related to actual events that pertained to real life.  I don't have any dislikes!  Very professional."
"Lectures and handouts!"
"How Rex brought in real life situations to the codes.  Thank you for bringing light on all codes.  I was lost, Rex found me."
"Kept me awake."
"So much good info!  See you next time!"
"Learned a lot."
HOW TO CONFIRM A BAIL SCHOOL IS REAL
This California Department of Insurance "Approved" Bail Bond and Bounty Hunting School's staff field and average of 850 incoming calls weekly, and its Cadre call back about 60 people weekly on topics spanning a fairly miraculous number of bail enforcement and bail bond licensing subjects.
One area that is ever persistent is that of, plainly stated, allegations from random callers alleging and providing information on "Fake bounty hunting schools" and the suspected rascals involved.
So how does one determine if a bail bond and/or bounty hunting school is real?
The above video is a great start, and here's why: a real bail school will not be nameless or faceless; a real bail school will have a documented pedigree viewable by the public; a real bail school will have a publically available video record of its work going back not weeks or months but decades; a real bail school will openly display class photos for Consumer Protection; this bail school is the most transparent, most trusted, and pioneered the art of presenting evidence of its long history of bail education for decades; moreover, no other bail school in the United States has done what this bail school does in the best interests of folks looking into the California Bail Bond and Bounty Hunting Industries.