20 Hour Bail Agent Pre-Licensing

Department of Insurance Approval Numbers 172113 & 172114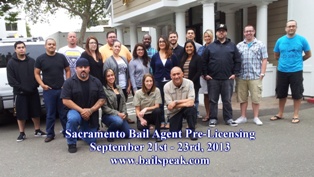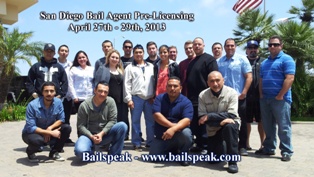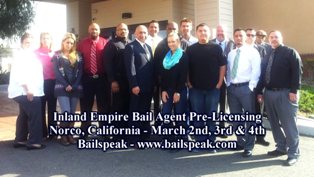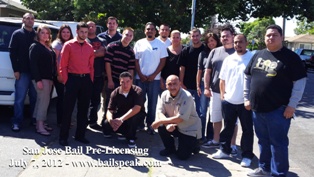 BAILSPEAK is the First Choice of Bail Recruiter's who are continuously Interviewing People for Jobs in the Bail Bonds and Bounty Hunting Industries; moreover, Bailspeak is THE Primary Bail Educator for Major Bail Bond Agencies' New Hires; indeed, Bailspeak is California's Fastest Growing and Most Trusted Name in Bail Education, according to Bailspeak Alumni.

...Sacramento, California..,

Call the Bailspeak Registrar for Enrollment Information and Assistance at
1-877-726-9092
Scroll Down for
More Information

Photographs, Bail Videos, and Alumni Testimonials are Installed on this bail training website for
CONSUMER PROTECTION.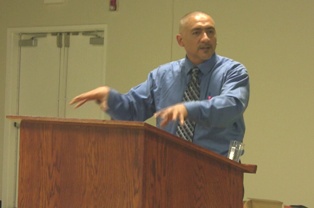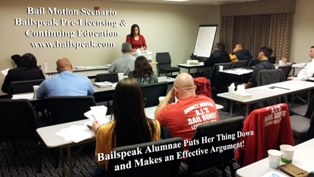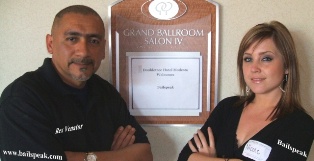 Its Unrivaled Bail School Transparency for Your Protection!

Bail Law and Motion
Advanced Bounty Hunting ~ Exclusive!

Its Personal Attention by People Who Care about Your Success in Bail!

"I am grateful to come across a person with a passion for his students."
"Easy going."
"Rex is really out there in the way he thinks, and he made me think."
"I enjoyed how informational everything was....Couldn't ask for a better instructor."
"It met part of requirements to be coming a certified bounty hunter if I so choose to become."
"I have been licensed 29 years and realize there is always something to learn. Very informed."
"Way it was presented made it a lot easier to understand than if presented in a different manner....Awesome."
"Anecdotal teaching approach. Keep up the good work providing salient and concise courses."
"Very informative."
"Buy the Bagger Rex! Rex is very personable. The chair. Very very helpful."
"Learning new things, to be able to understand lecture....Very knowledgeable, great instructor, he motivated me to want to take more learning."
"Valuable info! My brain is maxed out. Thank you for all your help! I love this industry."
"The pace of the class is excellent. The materials and handouts are way beyond what was expected. Rex's ability to get important information across is uncanny. I would definately suggest others to investigate Bailspeak and figure out why it is the leader in bails schools."
"I appreciated the atmosphere to how at any time if I raised a question the instructor will post the answer. There is no actual blue print to a step by step, lawful approach on how to not go beyond a bail agent's authority. Preciate your time, energy and efforts."
"I gained knowledge from Rex's personal experience and knowledge of the legal aspects and orals of the industry."
"I am blown away by a class that really meant something. Rex obviously cares about his students and takes the time to help each one of us on a personal level. The bounty hunter instruction and bail bonds instruction is off the charts!"
"I didn't fall asleep! Rex kept us engaged! I thought I was going to hate it but ended up learning a lot and enjoying myself at the same time."
"Keep it up! It was different from other courses! Very good course!"
"Pushed my thinking capacity."
"High level of Rex's experience and related stories."
"The convenience of the small class."
"Information on 1305(j) and the definition of what a motion is."
"The way the speaker compiled everything."
"Great overall instruction, class and time. Wasn't so text book, kept you involved and yet very informational at the same time. It was a pleasure to meet such an accomplished individual within the bail industry."
"The speaker kept me into the class."
"Fast pace, never boring, learned a lot of useful info. It would be nice to have a class closer to Santa Barbara or Ventura County. Very knowledgeable instructor. Nice to hear stories of 'real life' experience."
Bailspeak is the Only California Bail Training School that openly posts Class Photographs and YouTube videos of its work and with views exceeding over 500,000 between various video sharing sites!

See Alumni Quotes Ranging from Sacramento to San Diego and Everywhere Between throughout this Bailspeak Flagship Website.

Bail Agent Prelicensing
San Jose, California

20 Hour Bail Prelicensing
Riverside, California

Bail Agent License Training
Bailspeak's 20 Hour Bail Agent Prelicensing course is required by law and is "Approved" by the California Department of Insurance as the very first step towards becoming licensed to work as a bail bondsman in California.
In the video above, see, with your own eyes and hear with your own ears, veteran bail bondsmen and BOUNTY HUNTERS who were unconditionally stunned by Bailspeak's absolute cutting-edge bail education courses and agreed to go on the record to share their professional opinions.
You will be hard-pressed to find any other bail training school in the Nation that openly and freely shares such incontrovertible evidence of its dedication to your success!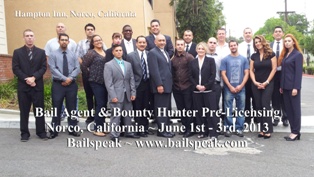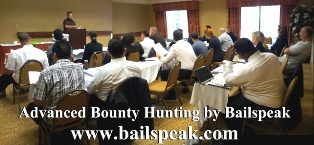 Why is Bailspeak Right for You?
An Opinion Editorial by Bailspeak's Primary Instructor, Rex Venator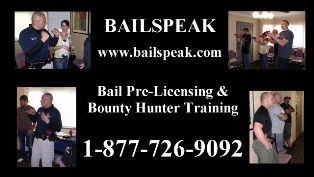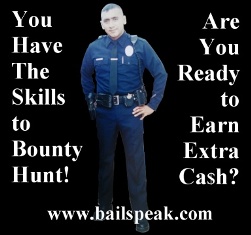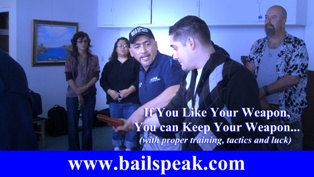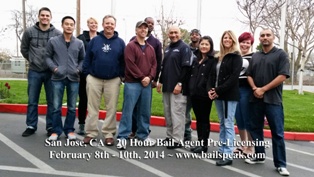 "Emphasis on codes, specifically the numbers.  Perfectly paced.  I was able to understand the codes in a simple, clear way.  Everything was excellent.  Instructor created a very exciting learning atmosphere through his life experiences and I was able to learn from his stories."
"I like how animated Mr. Rex is in the seminar...he makes it fun and not a burden for 3 days!  I can't find anything to complain about.  This class is very helpful for people who want to enter this business and I wish it was around when I took it [prelicensing] the first time."
"Lots of good examples helps a lot with putting things in perspective as far as codes, etc.  Awesome job!"
"The examples to the codes in real world experience were very helpful!"
"Presentation was lively and personal experiences and anecdotes helped me to retain information.  Excellent – I feel I learned a lot about a subject that I previously knew only peripherally."
"Got more experience & understanding about bail.  Also liked the instructor."
"The instructor!  Extremely informative while keeping the class engaged!"
"The teacher answered all questions to the best of his knowledge & gave examples."
"Amazing, powerful information to help me passing the state exam.  Everything!"
"Pace of the class was great!  Great content, lots of real life examples given to support the material and subjects we will be tested on.  Examples & cases cited to explain in detail the test material.  Instructor has great experience and is a good instructor.  Great course.  Lucky for me to have as an agent.  Feel well prepared and thanks for testing and encouraging writing motions.  Very great niche!!"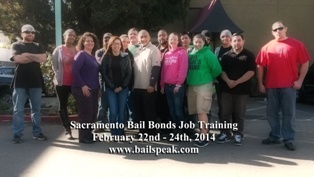 Sacramento Bail Enforcement Pre-Licensing Alumni Quotes
"The understanding of Civil Code of Procedures & Penal Codes which can help you in your career or job and of money made.  Very knowledgeable."
"Very informational.  Instructor knew what he is talking about.  Keep it up!"
"Well informative and very knowledgeable.  Was very thorough and activity got us involved in the topics."
"Stories."
"Learning Civil Code of Procedures."
"Interactive learning.  Very knowledgeable & entertaining."
"It wasn't boring, it keeps you interested."
"Rex is very knowledgeable.  I am happy I chose Bailspeak.  I liked the in depth detail about all PC and situations.  Rex took time to answer individual questions.  See you for CE within 2 years!"
"Amazing the amount of knowledge and information Rex has.  Rex explains the dos and don'ts, but also tells real world scenarios.  Very informative and ensures everyone understands.  Thanks Rex.  I know I've learned from the best in the business – hands down."
"Very informational.  Rex was easy to follow and understand and showed integrity the whole class.  I liked that Rex referred to actual instances.  Nice to get 100% honesty!"
"Rex keeps us tracking.  Very informative!"
"The handouts made the course easier, its make sure you know the truth.  I liked everything.  The instructor makes this course so much easier."
"I learned a lot."
"Learned a lot of useful information and it got me really pumped for moving forward in the bail industry.  Everything was new and fun to learn.  Looked forward to coming and getting to know new things.  Some things were pretty hard, but the instructor helped us understand.  Rex is a great instructor.  Couldn't ask for a better instructor."
Why Should You Interview Bailspeak Alumni
for Jobs in Bail Bonds?
Opinion Editorial
By Rex Venator
A Bailspeak Alumnus recently reported undergoing an interview with a bail company bail agent who was looking to hire a bounty hunter regarding a bail bond ordered forfeited by a judge.
As is the case in growing reports by new bounty hunters, the new PC 1299 compliant bounty hunter was quizzed on how to lawfully bounty hunt with an emphasis on describing which legal authorities allow a private citizen bounty hunter to do this or that.
The new bounty hunter was told that a very specific answer was incorrect, and the new bounty hunter informed the licensed bail agent of 2012 and 2013 changes in laws related to bounty hunting and was, in point of fact, found to have answered question correctly much to the bail agent's surprise.
Today, Bailspeak Alumni who are searching for both bounty hunting and bail agent jobs are, bluntly stated, educating long time bail agents on recent law changes and current events, but how could people fresh out of a bail class educate people who have been in the business for 10, 20 and even 30 years?
Unfortunately, the answer may be found in the massive drop of licensed bail agents who once attended live continuing bail education classes in favor of accruing required continuing education hours via online classes or correspondence courses that may contain unchanged curriculums for nearly ten years, or, perhaps, curriculums that do not contain information about law changes or cannot possibly convey a California Bail Industry that is ever changing at the speed of a text message.
The intent of this Facebook thread isn't to encourage bail agents to attend Bailspeak's various continuing bail education courses, but I think it is well worth strongly considering very serious looks at Bailspeak Alumni for salaried bail agent job openings, independent bounty hunting jobs, and for job openings in other various bail agency departments.
The Bailspeak Bail Agent Pre-Licensing bail class is maintained as a state-of-the art, cutting-edge immersion course filled with California Department of Insurance required studies and then taken a decade further with instructional techniques designed to not only help people pass the bail exam on their first tries but to also help them retain critical information in the post licensing world of bail bonds.
There are significant reasons why Bailspeak is quickly becoming the Number 1 Choice for new hires by the leading bail agencies in California and with students arriving from all over the United States and abroad.
Succinctly put, take another look at that Bailspeak Alumni application or resume and consider calling that person in for an interview and quiz that person who left his or her Bailspeak class completely exhausted and loaded with information and with a certificate that is undeniably carrying greater and greater weight by those who have hiring authority in their perspective bail corporations, mom & pop shops, and bounty hunting teams.
Thank you for your time and consideration of Bailspeak Alumni as priority interviewees.
Post Script: the Bailspeak Alumnus, like so many other Bailspeak Alumni, got the job.
Copyright 2007 - 2015 Bailspeak, All Rights Reserved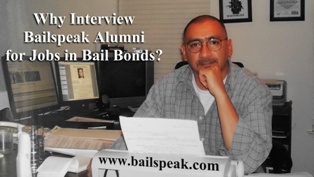 In 2008 and again in 2013, Bailspeak Stunned the California Bail Education Community by offering the only Advanced Bounty Hunting and then its state-of-the-art Forfeiture Liability Bail Law and Motion Advanced Bounty Hunting Courses! 

See how bail bond company owners and hardcore bounty hunters reacted in the below video containing video testimonials and actual video clips from this first California Department of Insurance Approved Maiden Bail Class.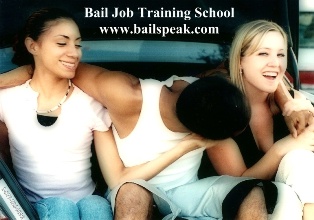 What Makes this specific California Department of Insurance Approved Bail Agent Pre Licensing and Continuing Bail Education School not just Different, but, Amazingly and since its Meteoric Rise began in November of 2007, a full Decade ahead of other bail educators in the California Bail Bonds Industry?
Witness Now Real Alumni Quotes from Bail Students who have Gone on the Record with their personal Opinions in Writing regarding Bailspeak, and there are thousands of more Real Quotes throughout this bail training school website and its many Sister websites for Your Protection!
"Knowledgeable instructor.  Lots of hand outs, shared experiences related to the material."
"Keep doing what you're doing!  I liked how the material was presented.  Would definitely like to keep in touch with Rex!"
"I liked how interactive the class was.  Great instructor!"
"I liked how the instructor was very explanatory.  He [Rex] is a wonderful instructor and I wouldn't hesitate to take this course or any other with him again."
"Very interactive, real life stories."
"Accurate information followed up by real life scenarios."
"Very informative."
"The course was laid out in a way that made it easier to understand.  I would like to take more of his courses."
"The instructor was very knowledgeable and kept the material interesting.  Liability, liability, liability!  Very important to know and the instructor did an excellent job relaying it."
"On the bail exam I know there will be a lot of difficult terminology to understand and the instructor did a great job explaining everything.  I liked the speaker used as many examples as possible to explain every terminology.  The instructor was very clear in every subject and used a lot of examples which helped a lot."
"It opened up a lot of avenues about bail bonds and other things you can do."
"There is a wealth of information.  Real life scenarios, motivates me to want to learn more.  I enjoyed the class.  Great information, awesome instructor."
"Very informative for new bail laws.Very engaging speaker with a lot of knowledge about the bail industry."
I would never presume to even suggest what is best for your in terms of your choice to undertake your California Bail Education training, but, you may rest assured, that I am candid in the extreme insofar that I provide you with the facts, timely information, and it is then up to you to decide what is right for you yourself.
Bailspeak began in 1996, after I'd been bounty hunting for 4 years and had been "street training" new bounty hunters for approximately 2 years. The first venture was the Critical Response Training Academy that held formal seminar classes in Tracy, California from 1995 to 1998, but the "street training" part of the instruction continues to this very day.
Since then, I've used my prior military and civilian law enforcement, martial arts instruction and other areas of relevant training and experience to develop my own successful bail bond company that was inevitably followed by helping others, as a small business consultant, to develop their own successful sole proprietorship bail bond companies.
The next natural evolution was to formalize decades of what I had learned into what is today California's fastest growing and most trusted name in bail education; indeed, countless Bailspeak Alumni are now working in the California Bail Bonds Industry as bounty hunters, posting bail agents, bail bond company support staff, and many have ventured off to begin their own bail bonds businesses.
Please feel free to peruse this simple website that is totally replete with photographs, testimonials and videos from bail bonds classes, bounty hunting, continuing education classes and much, much more. This "open book" transparency that is readily available to the public is totally unique when it comes to bail bonds and bounty hunters schools. In this one-of-a-kind way you can enjoy something very important—Consumer Protection.
Please feel free to catch a quick synopsis of my background below, and I look forward to seeing you in class, on the streets and in any case safely enjoying Luck in Bail.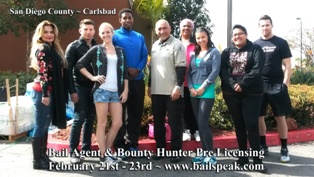 "Awesome!! This class had me totally prepared to pass the bail exam as well as having some real life tips on etiquette, image, and safety in bounty hunting as well as writing bonds.
Rex has a vast knowledge of both the business and the laws. He makes the information easy and enjoyable to learn.
I will always use Bailspeak to refer other people and do my continuing education. You can trust your getting what you pay for and more here!"

~ San Diego, Bailspeak Alumnae - 2015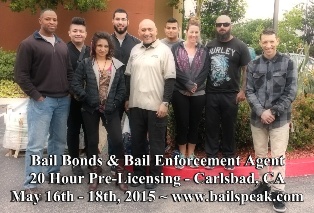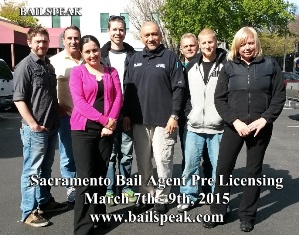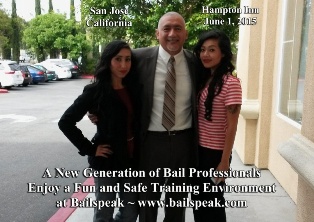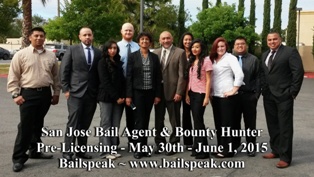 "Wish we could have teachers [in colleges and schools] teach this way.  Would be a much better pass rate!  That it was very active.  Real live examples.  Now I know a lot about bail.  So helpful.  Keep me in mind because I'm like a "shark"!  LOL
"Overall, I have learned so much information regarding bail, and the bail process.  I now understand more of the penal codes & insurance codes for which I hadn't before.  Learning this information has made me more capable of fully understanding bail.  It has made me an asset now because of the amount of information I have collectively learned.  Keep up the good work Rex.  You have taught me so much already!"
"Would love the class to be longer, add an extra day!  Information was broken down to where I can understand it.  Thank you for all the encouragement, I'll keep trying!"
"Great class and grateful to be a part of it.  Gathered plenty of useful information to enhance my knowledge of proper work ethic/standards.  Wish the class was longer!  Time was well spent."
"The information was exactly what I was looking for and very helpful!  Rex was great very helpful well worth the money and time."
"The information provided to me was a lot but the instructor provided the information in the way that made it easy to grasp.  The information packets that can be used as a study guide to the exam as well as in my future career as a bail agent.  I can honestly say, without a doubt or hesitation, there was nothing I didn't like about this course.  Thank you for all your information!  It is comforting to be instructed by someone with as much experience as yourself!"
"The way Rex broke everything down to understand the class."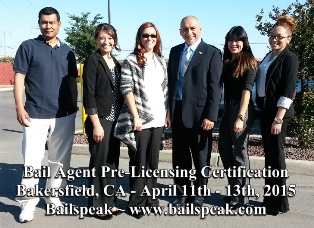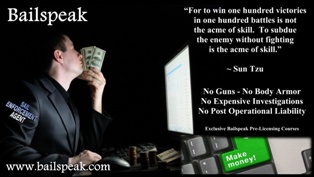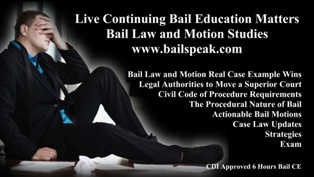 "The instructor was very specific and used life events as examples."
"Rex, you're awesome!  Explain information very well, easy to follow.  [I liked] Everything!  Crash course, but glad its pretty easy to understand!  Thank you!  I can't wait to tell you I passed the exam!"
"The real life examples & practical application."
"The anecdotes & reviews.  Rex, continue teaching!"
"I liked topic on bounty hunting.  Good job!"
"I totally loved all the instructor's personal stories & experience.  Very awesome & knowledgeable."
"Rex has taken a lot of time and effort into this and it greatly shows.  Rex kept us on our toes!  Keep up the great work!"
"The handouts.  Rex uses the codes to real life references."
"Great example how the codes apply to actual court cases.  Very informative."
"I enjoyed the class.  The instructor was very professional and explained everything really good.  I will highly recommend to anyone.  What I liked about this course is that the instructor explained everything with detail."
This Bail Agent Does Not Know How to Motion a court to vacate a bail bond forfeiture and win an order to exonerate his bail bonds.

This Bail Agent Does Know How to Motion a Court to set aside bail bond forfeitures and get paid from the bail agent who does not.

20 Hour Pre-Licensing Certification Bail Training School
Live California Department of Insurance Approved Bail Education Classes Regularly held in the following California locations: Sacramento, Roseville, Modesto, San Jose, Fresno, Bakersfield, Los Angeles County, Riverside County, San Diego County, and Privately by Special Order.
Penal Code 1299 Compliant – Instructed by Bail Agency Owners and Active Bounty Hunters!